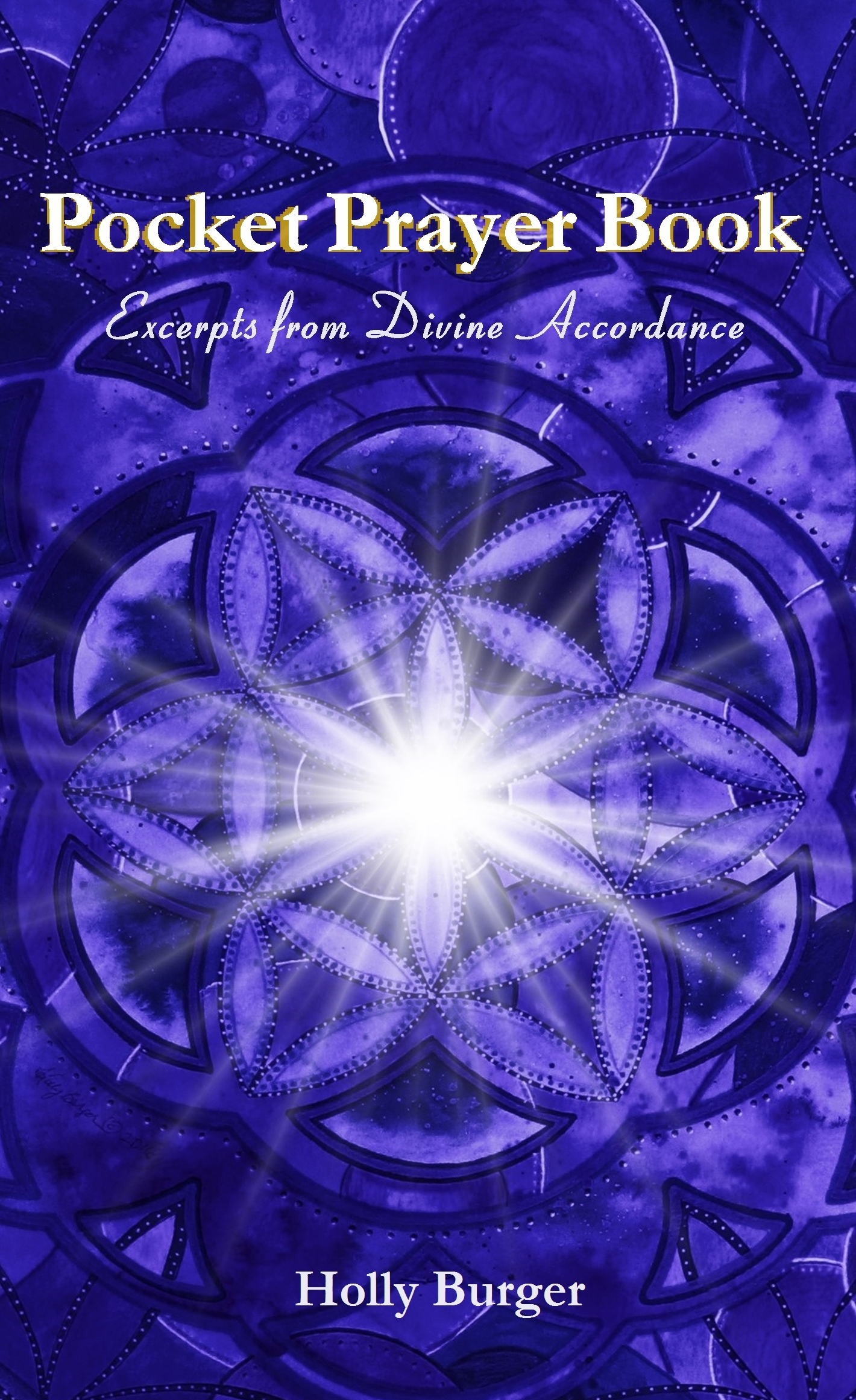 This little book is 5″ x 8″ and has 74 pages of 50+ prayers and exercises. Holly began receiving prayers in 2001. This collection is perfect for anyone wishing to learn more about setting sacred space, vertical alignment, energy clearing, release and integration.
Circulated for years as a small(er) book, Holly has sold nearly 1000 copies. As of 2017, PPB is available on Amazon, as a paperback or via Kindle. If you purchase a paperback version, a Kindle copy is discounted.
See the reviews below.
Pocket Prayer Book: Excerpts from Divine Accordance:
Kindle: http://amzn.to/2lvG5ca
Paperback: http://amzn.to/2kxbuwr
This is my favorite book! I carry it in my purse, and have had huge 'ah-ha' moments with it while standing in line at the post office, riding in cars, sitting outside. It's helped me with so many things in life – from getting good sleep, to clearing relationship challenges, addressing death, moving to a new home, and lots more! You will love it and benefit immensely.

—

This little book of prayers is the real deal. They aren't "normal" prayers! They are thoughtfully designed for nearly everything you can think of happening to you on a spiritual level. These prayers are power packed to help you rebalance and realign with higher energy and light. A must-own for any spiritual "warrior" seeking to make things better for themselves. Highly recommend!

—

A must for anyone on the path of enlightenment & spiritual awakening!

—

So exciting to have access to this book! I love the positive feelings I get after reading one of Holly's prayers. When you want to help a friend or family member in crisis, you can go to this prayer book and find an appropriate reading and share with that person. How empowering is that? I appreciate Holly's gifts and know that she can really help people in many positive ways. This book will give you a big lift in spirit and is a great gift for anyone.

—

This little book marries practicality with spirituality! I keep it in my purse as a reminder of the opportunity I have to always be in communication with Source! I've had 'ah-ha's with it while waiting in line at the post office, and used the prayers in it for everything from great sleep to challenging relationships and so much more!

—

I have followed Holly Burger for years and she is the real deal. That's so important to me. The guidance in this book is perfect for me every time I pick it up! I'm so happy to have access to this any time I like and I'm planning on giving these to those I love!

—