I adopted a new baby! It's quartz and oh so lovely. Are you a rock fan?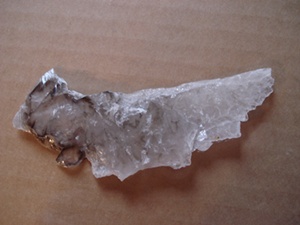 I adore the humming healing energy of stones. Last weekend I went to see my friends Karen & Bruce Nagle. They have the most delicious rock and mineral gallery called Hands of Spirit.
When a friend pointed out this slice of quartz, we both wondered what the little sticky tag on it meant. It said "hot spot". I put my thumb on the spot and my hand began to warm! I ran (okay, walked briskly) to Karen to ask about hot spots on rocks. What does this mean? She showed me the Melody book Love is in the Earth (Earth Love Pub House, 2008). Apparently, quartz crystals that have black areas, known as spots, are tremendous healers.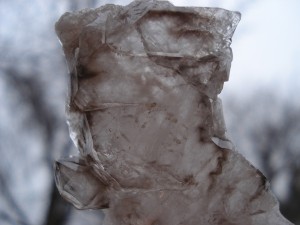 I own quite a few rock books with metaphysical information on healing attributes. Rock lovers call this rock an elestial. In the close-up pic you can see a little friend attached in the left side. What does it heal? How does it work? To tell you the truth, I will have to look it up! I picked this stone with intuition.
I play the game backwards, and I think many us do the same. Have you ever felt intuitively drawn to a stone or crystal and later found out that it is perfect for something you are working on healing?
A friend that owned a rock store told me that it happened all the time. People would come in, browse, pick up some eye candy and eventually arrive at the desk. "Excuse me, but do you have anything that works on healing _____?" "Why yes", my friend would inevitably say, "you're holding it."
We are the most intuitive healers! Left to our own devices, without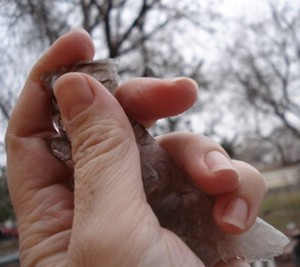 interference we all can receive information pertinent to mental, emotional, physical and spiritual health. I hope that you can take a moment to get grounded and connected to Source. Maybe in that moment give thanks to your own powerful intuition and innate healing ability.
Today I am grateful for the myriad of colorful, multi-modality rocks our planet offers us to play with and enjoy. My new baby is doing something powerful right now, and I don't even know what it is! Blessings to you and for you, on your journey with Light.
Holly