It's 2012. We've been talking about it for so long I nearly forgot it was another year in my life. I once heard (in a movie) that a man gave away his farm. He believed that the end of the world was coming, why own land? It was the late 1800's. When the world continued "living", the man felt defeated and lived out his days in poverty.
If 2012 arrives with angels on magic carpets, we won't need anything. Source will supply our ethereal desires and we will all be breatharians. Computers and traffic lights will be useless. This written word won't mean a thing.
Many people have asked me about 2012, in conversation and in session. I have responded in two ways. The first way is with discussion, "What do you believe?" or "What have you heard?" or, more importantly, "What do you feel?" Through asking questions I have learned that everyone has a different take on the future. Similar to viewpoints of any situation, they all vary. There is another response that I share only when guided. That response offers information that my guides tell me in meditation. Have you ever received a message and wondered, "Could this be true?" I have. It is in that regard that I have held this one, sharing it slowly, finding my comfort zone.
The door has opened, I feel it is time for me to speak about 2012 and the first message is this:
We are creating our realities. Pretend that you have been learning to drive over the past month. Confidence comes and goes, like a marble rolling up and down a seesaw; it's up, it's down, it's up, it's down. You haven't smashed anything yet, but there have been a few close calls. Your family's car is a 1957 Ford; it's a big fuel hog that rides like a living room couch. Your father just handed you the keys and these instructions: "Take the highway to the city, parallel park, buy $20 worth of groceries with $10, stop and see your aunt, clean her house, then drive home during rush hour, and DON'T WRECK THE CAR."
Is it impossible? No, because everything is possible. Is it smart? Well, let's put it this way, you are smarter. Before 2012 you might break this down into little wars; conquer each one individually. Now, you have new opportunities. Your creative ability is growing exponentially. Each morning you wake up smarter, more connected to your intuition and ready to use both. You no longer listen to the "male authority" figure without question, and you no longer rebel. You are living in balance, you take the time to listen.
When we take deep moments to ground to our planet and connect to the Divine, our lives change. Ideas come and we see how to please everyone, including ourselves. It might look like this, "Thanks, Dad, for the opportunity to drive your car. I am new to highway driving so I think I will take the bus. I will do my best to fulfill your grocery list and then stop by Auntie's. While I am there I will clean a bit, but most importantly, I will make sure Auntie feels loved. During the bus ride home I will think about how I can drive safely in the city, when I am ready."
The moral of the story is: don't panic. Your responsibility may feel heavy. You may have created a puzzle that seems too complicated to complete. Trust me when I tell you that you have help. We are not lone walkers on planet Earth. We are conscious beings that made decisions to explore our potential, with extensive ethereal teams.
2012 is the biggest, broadest, most energetically opportunistic time we have experienced. Your intuition can grow this year; your connection to family and friends can deepen and become more compassionate. We can capture the energies of opportunity and use them to our full advantage. Our full light advantage, that is. Light is what it's all about. If you struggle with entities, depression, or confusion; it is time to ask for help. When you hear about the new energies that 2012 offers, think about what positive changes you can make in your life. Teach yourself to speak gratitude, morning and night. Make gratitude your door to sleep.
During the last Tele-Connect With Spirit the guides told someone, "Gratitude is water on the fire of doubt."
Embrace your doubts—they are seeds of healing. Dive in without trepidation and open your heart to healing. If you find that you have issues with other people, write them down. Then go back and change every person's name to yours, it's that kind of year. We can't escape responsibility. It's here, it's time and it's all ours.
Can we graciously accept our mistakes? As bitter as that pill may be to swallow, we can do it. We can do it together, with compassion and gratitude. Remember, when something happens fifty one percent of the time, it affects mass conscious—it's everywhere. This is what we are being guided towards, this is the auspicious and momentous opportunity we have been waiting for.
In short, there are energies present that we can use to create. Not mis-create, create. In our clarity, truth and integrity we are monumental. We advance through vertical energy, grounding to our beloved Earth & Gaia and connecting to Source. Our creative abilities are present at higher frequencies, when we access those frequencies our thoughts move into reality very quickly. When we are burdened with negativity, we experience lack, want and need without fulfillment. Light equals happiness.
Why now? 2012 is the end of Gaia's soul contract with our planet, Earth. We are experiencing the changing of our core essence. When each of us came to this planet we engaged a soul contract with the ground, Earth, and with her soul, Gaia. Think of Gaia as an office, always occupied by Divine Light. The shift in this office is happening now, it is not a surprise, just something we have not been taught about.
Can I still ground to Earth? Yes, please, without cease. Grounding is your way of giving Divine Light to Gaia and Earth. Prayers for peace, ease and comfort are helpful, but remember that your energetic footprint extends beyond your mind; it's actions as well as prayers. Your vibration and energetic signature are comprised of fields, layers and levels of existence. Our navigation talents are a bit lacking in this department, but we are learning fast. Pray, yes, but more importantly keep your thoughts clear. Make your life a living prayer, while remaining grounded. Conscious behavior is food for our hungry souls. You are a very important aspect of this transition. Again, "Gratitude is water on the fire of doubt."
On that note, thank you. You, gracious reader, are such a very important part of my life. I offer myself in service to the Divine every day. Some days I am quiet, on this day I write. Thank you for allowing my service to be present in this form. I am so grateful to the Beings of Light that bless me… the ones on Earth and the ethereal ones.
Namaste,
Holly
PS- My next lightBLOG post will be about Decree of Life, an amazing message from an archangel. I hope you will journey into those words with me.
Here is a sneak peak: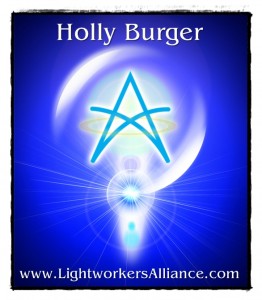 "From this moment forward, I release myself from obligations to endanger myself for the sake of others… I turn each page in the book of my life with perfect timing, effort and grace… I breath, expel, intake and move about on my planet with peace, ease, grace and comfort; offering each step as a step of service and alignment with the path that serves the divinity of goodness that grows now…"