Bio:
During meditation in early 2002, Holly reunited with an ancient frequency of Light known as St. Germain. She now uses this communication to assist herself and others in matters of love, relationship, work, healing, energetic release, happiness and peace.
Holly takes great care to align with Christ Consciousness energy, which is more ancient than the life of Jesus. Holly does not affiliate herself with a religion; she believes in the seed of all pure Light beginnings and aligns to those frequencies. This enables her to embrace many religious beliefs and accept Light free of judgment.
Continued effort to remain clear and open is important to Holly. She is known for easy and helpful transitions. Her work with the creative force within each person is remarkable.
Consider what motivates an individual, is it the small mind we work from each day or the large subliminal force that resides within? Holly is dedicated to helping each of her clients get in touch with their conscious awareness and potential to be the Light they were born to be!
During sessions, clients experience connection to Source. Holly's ability to bring forth psychic messages and vibrational healing has created a strong reputation and international clientele. With focus and concentration on her client's needs and desires, Holly helps clear mental body activity so that each person may get in touch with their divine true and authentic self. Helpful and easy to use tools assist each precious being on their divine Light path.
In another meditation, shortly after her alignment with the St. Germain frequency, Holly received the "A" symbol with a band of Light around it that you see in her logo. She heard the words "Lightworkers Alliance". It was then that her path unfolded.
You may ask what affiliation you have with Ascended Masters, Angels or other ethereal beings. Holly can assist you in aligning with your soul frequencies and ancient connections through Light. It may seem important to designate someone by name, it is more important have clarity with Christ Consciousness Light. Your gifts and awareness can open by clearing our negativity and blocks from the past. This will open your eyes to the levels of Light with which you are innately connected, and their names.

Through discipline and with great integrity Holly reads energy for people around the world. She believes all have the power and ability to be Lightworkers.
Holly Burger is a life long artist and spiritual facilitator:
She has studied with many different teachers but considers her highest learning to come from the ethereal guides she communicates with in meditation.
During the last 10 years Holly built her spiritual business and Lightworkers Alliance community with very little advertising. Her clientele is primarily referral.  Her readings, classes and healings are done in-person and over the phone. Holly teaches people how to be in contact with their spiritual guides, angels and ethereal beings of Light.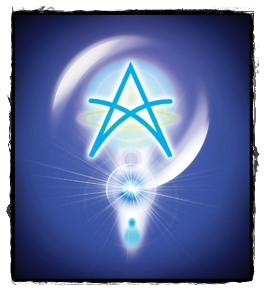 Many prayers and techniques have come through Holly during her sessions, classes and meditations. She compiled these in a small prayer book entitled Divine Accordance after one of her favorite prayers. The books were printed locally in small runs and sold out over and over again with many requests for more writing.
Holly explains, "In 2002 I was struggling with a personal friendship and wanted to take responsibility for my actions and creations. I was gifted with a beautiful prayer I named Discord Prayer. After working with this prayer I felt the heavy energy lift. When I shared the prayer, I received the same report. More prayers came and I wrote them. I gave them away freely, I still do, but charged a little for the printed booklets. When the booklets were gone, I would print more, always adding any new prayers and fixing typos. It was Becky Robbins that finally convinced me that people need more. It was a big leap for me, an artist that wishes she could write, to go into meditation and retrieve the energy behind each prayer. Then I had to bridge the frequencies so that one could sit down and read without going out of body. That is how the book was born."
Besides spending time with her family, Holly enjoys writing, painting, multi-media art,  Tai-Chi, swimming, yoga, hiking and exploration.  She teaches people about meditation, communication with spirit and self-fulfillment.
These are some of the areas of study that Holly has participated in:
Reiki
Spiritual Response Therapy by Robert E Detzler
DNA I & II, and ThetaHealing with Vianna Stibel (certified as practitioner and teacher)
Ho'oponopono with Dr. Ihaleakala Hew Len
Keys of Enoch, Dr. JJ Hurtak & Dr. Desiree Hurtak
Human Design with Chetan Parkyn and Carola Eastwood
Essential Oils, Crystals and Stones as healing tools
Art Therapy (mandalas, divination cards)
Oil, Water and Acrylic Painting, Pottery, various art education (Clyde Aspevig, Louis Escobedo, Cathy Goodale, William F. Reese, Katherine Skaggs)

A note from Holly:

When people ask me what I do, I don't always know what to say. What I think people want to know is, "What can you do for me? Will I be healed, blessed, cured, gifted, opened, relieved, etc?"

When I work, I make sure I am surrounded by Light, call in the guides, then wait for answers to my clients questions. In a way, it is surrender. But it doesn't sound very enticing to say that I surrender for a living, does it?

For years my work has been by referral. The Lightworkers Alliance website was not optimized, I did not advertise and rarely participated in public venues. I am so grateful to clients that speak well of me and refer me to their friends. But now the energy is needed more than ever before and I feel the gentle push from my guides to expand.

So the question comes around again, "What do you do?" I have asked clients about this, here is a partial list of what I have been told:

•clearing of mental/emotional/physical/spiritual body issues
•clearing of unwanted creations stemming from the sub-conscious mind
•resolution of archetypal (past life) and/or genetic (family) issues
•connection with soul/high self
•healing of all types of problems
•release and/or communication with deceased ones
•healing from divorce and/or unrequited love, attracting compatible love
•property: sell, rent, find and/or clear
•enhancing feelings of confidence, beauty, usefulness
•healing of unworthiness, rejection, abandonment, fear
•hearing guides, angels, Ascended Masters
•finding calling/career
•teaching one to use psychic abilities, translate info coming through and how to best serve
•mentor for channeling, intuiting and receiving spiritual information
•focus for accountability and success
•help with blocks, fear, doubts and motivation
•balance ego/mental body
•healing with sense of humor and patience, grace, peace, ease and comfort
•learning, growing and spiritual expansion.

What I know I do is communicate. My gifts allow me to relay messages and raise frequencies for healing. What happens is different for each person. Experience has shown me that the conductor of the sessions is the client. That is why when people book a reading I tell them to write down their questions and intentions. I look at it like directions. Without directions, your guides continue their current efforts; they do not always know where we want help. Many people have said, I have said, "How could they not know? I am screaming it in four languages!"

Here lies the problem: it's the subconscious mind. Science shows us that at least 80% of our thoughts are sub-conscious. That means you may think you are running the show, but with only 20% (or less) steering we aren't actually in charge. What? Imagine how many people (including me) have worked on control issues, only to discover that their sub-conscious mind had control the entire time! My guidance explained, "If you want to know what is going on in your sub-conscious mind, look around."

When we take responsibility for our actions, we get the divine opportunity to look in the mirror and say, "You are responsible for this mess." Taking responsibility brings a blessing. You might think, "If it's my fault, and it's not working I want help." Bravo! Now make your list! Ask for help. Get those frequencies raised so that your creative juices can flow into your divine vision! You might choose to have a reading of the energy around you; it helps you see where you are working with light and were ego is taking charge. Many people (especially lightworkers) have issues with doing too much or opening themselves empathically. When we raise the frequency, our guides are able to communicate with us; we can receive spontaneous healing, even miracles. I have seen these happen.

My guides told me that I have contracts to bring messages forth. By doing readings, I am able to fulfill my soul contracts and help others reach their highest potential. Please contact me if I can be of service to you.

Many blessings on your spiritual journey – Holly